This clematis I planted late last summer has been early to bloom this spring. Such a lovely new visitor to the garden!
Our topic this week at the SFF Seven is Paying it Forward: How We Serve as Mentors for Tomorrow's New Writers.
Those of you who've been following me for any length of time know this is a topic near and dear to my heart. I'm a big believer in helping out tomorrow's writers. More established writers helped me as I was coming up - and still help me today! - and I return that favor to the universe by helping others. As others have said, there's not a lot we can do to repay those higher on the ladder than us, because most of them don't need it, but we can give a hand to those lower down.
There's lots of ways to do this, and I look forward to hearing what others of the SFF 7 say they do, but I want to come at this a little sideways by giving a warning about what is NOT helpful.
This has been on my mind all week since I saw a discussion earlier this week among some authors talking about a new "writers conference" run by a guy who promises to teach how to be successful as an author. Now, I've been around a fair amount of the success-culture stuff. People close to me have been burned by it. I can promise you, falling for their shtick is absolutely understandable because they're really good at this.
However, there are many problems with what they're doing. Best case scenario is illustrated by this most recent (how's that for serendipity?) XKCD: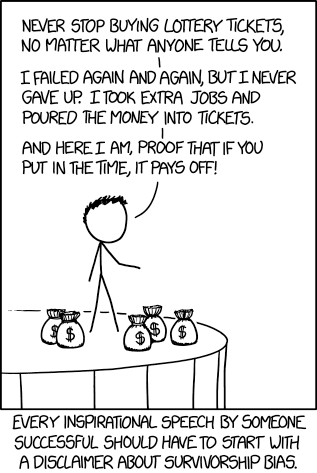 If you're not familiar with the concept of Survivorship Bias,
he explains it here
. The TL:DR is that this is a bias caused by looking only at those who made it through a selection process, and not at those who did not. By focusing on 1% who did make it through a filter, the 99% who did not gets lost, leading to false conclusions.
Even the most well-meaning people who try to pass on the secrets of their success can be giving bad advice because very often THEY DON'T KNOW why they were successful. They can retrace their steps and say, "this is how I did it," but those aren't necessarily what actually made it happen. Especially when one step is "and then lightning struck and..."
There's a great interview that's well worth watching, w
here Oprah Winfrey and JK Rowling discuss that neither of them have any idea why they became so immensely successful
. (
Transcript here
.) The self-aware recognize this, how much of phenomenal success is due to a stroke of luck and can't be replicated. The well-meaning might not recognize this and earnestly want to teach what simply can't be replicated.
Then there's another type. Those who have another agenda.
And that agenda is always making more money for themselves. Even if they insist it's not. In fact, particularly if they insist that's not their reason. That's a big red flag.
Let me break down the red flags I saw in this particular case.
1. This guy is self-billed as a hugely successful author who wants to share his secrets.
Let's ask why. Because, folks, we all know that a basic ground rule of being an author is that time = words written. Anytime a "hugely successful author" is spending their time doing something other than writing books, you can guess that this thing is either
earning them more money than writing books, or
contributing to sales of said books.
That's simple economics.
2. He's not doing this for money. He's only charging this low price because he's doing this out of a desire to share.
Okay, look - this guy has already gone on about his huge financial success. That's what he congratulates himself for, that's where his heart is. Nothing wrong with that, but don't turn around and try to convince me he's devoting an entire weekend just because he's such a giver. He's not a yogi, he's a businessman. Look for the business benefit.
What's the business benefit? Two things:
Putting on a small hotel conference, especially in a place where there are few to no other lodging choices, is not expensive. If you guarantee a room block with the hotel, especially a place like a casino, they'll comp the meeting rooms. Thus the registration fee per person is almost entirely profit.
It's a big commercial for his books. Possibly he'll have a success book for sale at the conference. Even without that, this is all about raising his profile and establishing himself as a success in the eyes of attendees. Even if he doesn't make a profit on the registration, this is great promo.
Also, always be suspicious if people insist they're not doing something for the money. A professional person always needs to charge for their efforts. Honest people will say, "yes, I'm charging this fee for my weekend's worth of time because that's what my time is worth." Exceptions to this are low-effort events like speaking to a school class or answering questions online. If aspiring writers want to ask me questions at conferences, I'll sit down for a few minutes, sure, or I'll say, "but me a drink or lunch and we can talk." Authors will do interviews and talks for free or minimal honoraria, but that's usually to raise their profile and to give back. In that case they won't spend much time telling anyone that they're not doing it for the money. Obviously they aren't.
3. He hints at having exclusive knowledge
This one is a major red flag. In the text this guys says that people shouldn't ask uncool questions, but that, if they hang out long enough and learn something, then they might get to the point of knowing how to ask cool questions.
Let me tell you something, people. THERE IS NO SUCH THING AS AN UNCOOL QUESTION.
I mean, what is this, 7th grade?? Seriously, that's the last time I remember someone trying to make me feel bad for being "uncool."
The only people who pull this shit - and complete and utter bullshit it is - are those who want you to believe they're better than you are. Even if they do know something you don't, that doesn't make you somehow substandard. There is no shame in not knowing something. That's why we ask questions, to find out. I made a resolution a long time ago to never be afraid to ask a question.
And I'll tell you what: the only people who have ever tried to make me feel bad for asking a question were those people who had a stake in trying to appear powerful. And VERY OFTEN it was because they either didn't know the answer or didn't have a good answer.
Or maybe the answer is so simple that it blows their entire posture of appearing to be this magical, hugely successful author guy.
Trust me, folks - any time some person tries to make you feel ignorant, or uncool about your ignorance, they are manipulating you. I've been down this road. Like the "teacher" who says that you're not ready to understand the answer. That you've only scratched the surface of some knowledge so profound that you have all this work to do just to figure out how to ask the right question. There's some truth to this, that as you learn a subject, you get better at asking the questions that target what you really need to know. But that does not mean you're not allowed to ask ANY questions to begin with. Not unless they're trying to control you and keep you in a subordinate position.
For people like this, positioning themselves as successful, powerful, or knowledgeable depends on positioning other people as unsuccessful, weak, and ignorant. Don't go along with it.
4. Always consider the motivation.
People do things for a variety of reasons, not always noble ones. It *always* serves you well to ask WHY someone is doing something. And, while you might take into consideration the reasons they give you, don't accept those at face value. In fact, look closely at why I spent a couple of hours writing this blog post. I'll tell you what I think they are, but I also know you might see other ones. What I think:
I write a blog post every Sunday for the SFF Seven as part of promoting myself as a writer of fantasy, among other genres.
Promoting my profile as an author sells books, hopefully. I like blogging, but I don't do it out of the goodness of my heart.
This stuff was on my mind and so I was ready to take the topic in this direction.
I have experience with manipulations of this type and it pisses me off. If I can help someone else see through these shenanigans, I'm happy.
I really do believe in mentoring and paying it forward. There's a lot of bad information out there. Good information is needed to counter it.
Also, I didn't want to spend a lot of time arguing with people one by one who are enthused about this event. It (likely) wouldn't convince them, might make me a target which I'm not interested in investing my energy in, and would ultimately just aggravate me. By writing this post, I get to have my say and move on.
I have a good reputation for being generous and helpful (which I find immensely flattering), so I hope this post serves that.
I dunno, what else? Maybe I just want you all to tell me I'm pretty.
So, what do you all think? I already went on long, so I didn't go through every red flag I can think of, because there are many. But what ones have you noticed?